Loch Ness Investigation Telephoto Lens. 1962 -72
In the third area of the exhibition you would have seen one of the huge 36 inch Newman lenses used throughout 10 years of surface surveillance by the Loch Ness Investigation Bureau during the 1960s. The 36" telephoto lens was attached to a 35mm movie camera. The objective was to achieve photographic records of the highest possible quality of the phenomena reported by many eyewitnesses and especially to reveal details of any head and neck exposed by any unusual creature. The Newman lens had a 140ft width of field at a mile range. An object only one foot wide could be recorded at that range. In the presentation we showed some of the volunteer crew members on watch with it. A continuous vigil was maintained from the expedition's base on high ground at Achnahannet, awaiting the calm weather associated with monster sightings. Then vehicles mounting cameras were dispatched to vantage points along the north western shore. A number of inconclusive films were shot.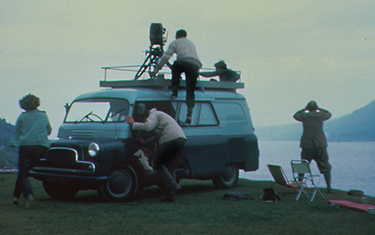 The Famous LNI mobile viewing platform, a roof with a view.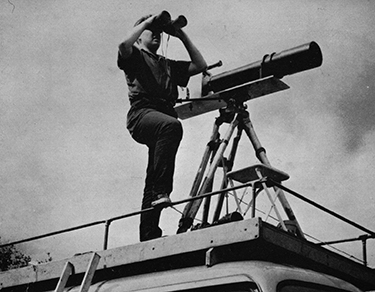 Mounted Long |Lense Camera