The John Murray sonar search vessel. Loch Ness, 1981
The fifth area was a night time view of the John Murray, a 'flatpack' sonar search vessel we built on a beach in 1981. The concept used inflatable sponsons which could be moved between the research areas at Loch Ness and Loch Morar where a variety of plywood deckings and superstructures were built for different purposes.
Among the flotilla thus formed, was the John Murray version, built for day and night scanning sonar patrols along the length of Loch Ness. With this in mind, the Ford Anglia van engine was only used for the upwind run. The forward superstructure was designed to catch the wind when running downwind, thus preventing the general tendency of vessels without power to turn broadside. This characteristic was reinforced by 'dagger boards' lowered at the stern which gripped the water as the wind pressure on the superstructure pivoted the hull around. The open bridge gave a good downward view of the foredeck useful for following up ropes during sampler retrieval. The cabin had only small tinted windows to make the sonar screens easier to monitor in daylight. Red light was used during the hours of darkness to preserve night vision. Through a viewing opening we have cut in the side, you will have seen the original search and tracking sonar which had a 'searchlight' beam probing around the vessel displayed on a circular screen. The other screen was for recording and strength measurement.
The crew was changed every 12 hours from a beach tented base camp using a three-watch system. John Murray's first job was the location and pre-salvage survey of a WWII Wellington bomber which ditched in the loch on New Year's Eve 1940. A Sea-pup Remote Operated Vehicle (ROV) was launched from the stern to dive 75m onto the aircraft. The sonar contacts gained during the patrols formed the basis for a more systematic study throughout the 1980s.
Another version of our 'Sponson' system was the Monitor, which was a fixed station, four point moored by one and a quarter kilometres of rope over the 200m deep southern basin for sonar monitoring and sampling. The cabin was much smaller and low profile to present less profile to the wind and the ends painted orange to avoid being a hazard to navigation for Caledonian Canal users. In 1984 the Monitor was crewed for over a month.

Return to Equipment Index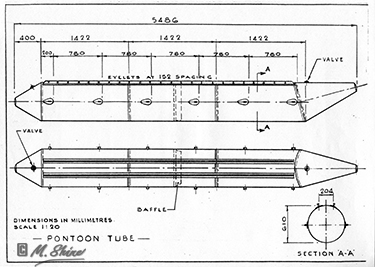 Adrian Shine's original plan for the 'John Murray'.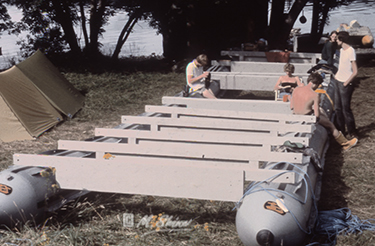 Early build and Pontoons and braces fitted on the south shore of Loch Ness near Dores.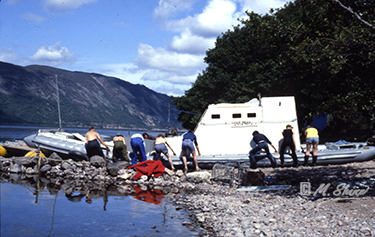 The Launch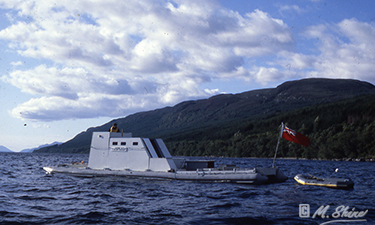 'John Murray' on station mid-loch.